A native of Moncton New Brunswick, Dr Jean-Luc LeBlanc is a doctor of chiropractic and founder of "Clinique ChiroPlus Clinic" in Dieppe, NB. After completing a Bachelor of Science degree at l'université de Moncton in 1997, Dr LeBlanc attended the founding school of the practice of chiropractic, Palmer College of Chiropractic in Davenport, Iowa and graduated with honours Magna Cum Laude in June 2000.
Currently, Dr LeBlanc is an active member of the New Brunswick Chiropractic Association and is the former Acting Medical Director of the Dieppe Commandos Junior A Hockey Club (2017-2018). Dr LeBlanc has travelled with Clinic Abroad Programs serving under-privileged parts of the world, the most memorable being the Fiji Islands in 2005, acting as a Clinical Doctor and Extended Faculty along with other Chiropractors/Faculty Members supervising and teaching groups of Chiropractic Students from Palmer College of Chiropractic.
Dr LeBlanc practices a "Full Spine Approach". The techniques mostly being used are the "Gonstead", "Diversified", "Thompson", "Lumbar Flexion Distraction and Nimmo Myofascial Release" techniques. Patients of Clinique ChiroPlus Clinics get a series of Full Spine Digital X-rays taken on the initial visit along with the initial consultation. X-rays are analysed for medical reasons and chiropractic line analysis of the spine. The X-ray line analysis results are consulted every treatment visit for continued precise chiropractic treatment. Dr LeBlanc believes that there is more to chiropractic than the relief of headaches and back pain. His primary focus is the treatment of vertebral subluxation and the integrity of your nervous system, which controls every cell and tissue of your body.
Jean-Luc loves being a chiropractor and his priority is to live a healthy life style and spend quality time with his wife and 3 children. Jean-Luc believes in "practicing what you preach" and works hard on living a healthy lifestyle, which includes regular chiropractic treatment for him and his family.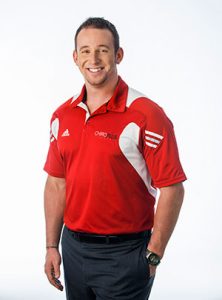 Dr. Matthew (Matt) Carroll was born in Ottawa, Ontario, but has spent the majority of his life in Truro, Nova Scotia, having moved there after his father was transferred there for work purposes. He attended University of Prince Edward Island for a year while playing Junior A hockey in Charlottetown. Following that year he transferred to Mount Allison University in Sackville, New Brunswick to continue playing Junior A hockey for the Dieppe Commandos. It was while playing hockey for the Dieppe Commandos that Dr. Carroll was introduced to Dr. Jean-Luc LeBlanc and the practice of Chiropractic. Following the completion of his hockey career, Dr. Carroll continued to stay in touch with Dr. LeBlanc, both as a patient and also spending time on spring breaks to shadow Dr. LeBlanc and gain a better perspective and understanding of what a day in the life of a chiropractor entailed.
Upon completion of a Bachelor of Science degree from Mount Allison University, Dr. Carroll continued his education stateside, pursuing his Doctorate of Chiropractic degree from Palmer College of Chiropractic in Davenport, Iowa, graduating with honors Magna Cum Laude in February 2016. While at Palmer, Dr. Carroll was the president of the school's hockey program, worked as an intern in the Physical Rehab Department, and was an active member of the Sports Outreach program which provided chiropractic care to sporting events throughout the Quad Cities community.
Dr. Carroll practices a full spine approach to chiropractic, as well as extremity adjusting. Techniques mostly used include: Gonstead, Diversified, Thompson, Flexion Distraction and Trigger Point therapy.
In his spare time, Dr. Carroll enjoys practicing a healthy lifestyle, weight training several times a week, playing ball hockey and ice hockey, and golfing in the summer. He also believes in giving back to the community, as he used to volunteer his time both coaching and serving as team chiropractor for the Dieppe Commandos, and while still at school in Iowa helped out with the local youth sledge hockey program, where he was beyond humbled by the passion and enthusiasm of the individuals learning to play.